Cable isn't the only way to watch your favorite movies and TV shows. Free streaming services make it possible to cut the cord and save a ton of money each month.
If you've had to trim back your budget, but still want entertainment, give some of these live TV streaming services a shot.
Best Free Streaming Services
The first thing you need to know about the best live streaming services is that they're not all alike. Some are completely free, while others offer free trials and then begin charging you.
Many free streaming sites are ad-supported, which means you'll see plenty of commercials interrupting your content.
If you don't want commercials, check out Netflix and Hulu, which are some of the best TV streaming services and deliver a lot of great content for a reasonable monthly fee.
All you need is internet service to watch these platforms. Read our guide here on how to get cheap internet service without cable.
With that covered, let's dive into some of the best free TV streaming and movie streaming sites.
1. Vudu
Vudu is mostly known for inexpensive movie rentals, but it also offers free movie streaming along with thousands of TV shows.
While many of the movies are older and contain limited commercials, much of the content on Vudu is completely free.
Scroll through its many free titles to find TV shows and movies you enjoy.
Once and awhile, if you want to splurge, you can rent a recent hit for $5.99. It's a good way to keep your entertainment costs low.
2. Pluto TV
Pluto TV has over 100 channels of free news, sports and entertainment.
It's easy to watch shows on your mobile device, tablet, computer, or TV. You can even use your phone as a remote to browse channels as you watch on your television.
It does have a lot of commercials. If ads bother you, just remember that's how you're able to watch Pluto TV for free.
Read our Pluto TV review to learn more about the streaming platform.
3. Crackle
Crackle specializes in comedy and entertainment.
There are many documentaries, 90s comedy shows, reality series and even some original content on Crackle.
The action films make it one of the best free movie sites out there.
4. IMDb TV
IMDb TV's large selection of Hollywood hits and popular TV shows makes it one of the top free movie sites out there.
They even produce original content, so check them out.
5. Tubi TV
Specializing in cult classics from the past 30 years, Tubi TV has a lot of free horror and thriller content.
There are even a few reality show episodes on there, so give Tubi a try.
6. Roku Channel
You might have heard of Roku, as it's a popular streaming service. Did you know that Roku also has its own channel?
Similar to the way Amazon Fire TV also offers Amazon Prime original content, TV, and movies, the Roku Channel also offers free movies, shows, news, and more.
It even has family-friendly content for kids, which makes it one of the best free streaming services.
7. Redbox
You might know Redbox for renting DVDs, but it also offers free streaming content on its website.
Heck, it might even be the best movie streaming service period, since you can also rent new releases through its site. If you love movies, check out Redbox online.
8. Hoopla
Hoopla means commotion, and that's exactly what this free streaming service is creating.
We've talked before about how your local library is one of the best places to rent free TV series and movies.
Hoopla brings your library's audiobook, movie, and TV collection to your home, without you having to physically go to your library.
All you need to start browsing and renting is your library card.
9. Kanopy
Kanopy is similar to Hoopla in that it also uses your library card to rent movies and TV shows. On Kanopy, you'll find thousands of free movies to watch.
Diverse titles and a large collection make Kanopy one of the best streaming services to try. In addition to Hollywood hits, it also offers international, artsy and educational videos.
If you enjoy learning while being entertained, check out Kanopy.
10. Popcornflix
While Popcornflix offers decent free content, its movies and shows are a little obscure.
Still, if you're looking for free movies and don't mind them not being Hollywood's recent or more well-known titles, you can find plenty of interesting shows to watch on Popcornflix.
11. Xumo
Xumo specializes in free live TV, but it also has a nice selection of on-demand content. That just means many of its titles are available to watch whenever you want to sit down and enjoy them.
Xumo offers over 160 channels of free TV. You can pause, rewind, and fast forward through all content. It also has breaking news, viral videos, and cartoons.
With so much content to choose from, you'll have a hard time NOT finding something to watch on Xumo.
12. The Metropolitan Opera
COVID-19 forced the Metropolitan Opera to close its doors and delay the opening of its 2020-2021 season.
Until it can begin hosting live performances again, it is offering free performances that it streams live on its website.
Shows are free to watch. If you love opera and want access to the Metropolitan Opera's entire collection of recorded performances, you can get it for just $4.99 per month.
Free Trials To Take Advantage Of
While there are many excellent streaming services that are always free, there are many more that charge low monthly fees, but do offer free trials.
If you don't want to sign up long-term, but are looking for free content to tide you over for the next few months, try the below streaming services.
Each offers a free trial that usually lasts seven days or more.
Just remember to mark your calendar to cancel your subscription before the free trial ends so that you don't get charged.
1. Hulu
Hulu offers two services – regular Hulu and Hulu Live. Hulu costs just $6.99 per month.
Hulu Live includes live TV and includes channels like CNN and ESPN. Hulu Live costs $69.99 per month, which is probably way more than you want to pay.
Try Hulu to see if the service is right for you.
Try Hulu
2. Disney+
Every Disney movie and Star Wars series or movie is on Disney+ .
Some content from Fox is making its way to Disney+ as well, along with loads of National Geographic content. It's one of our family's favorite streaming choices.
Disney+ no longer offers a free trial, but it's still an excellent value. The service just $7.99 per month. Or, sign up for the Disney+ Hulu ESPN+ bundle for just $13.99 per month.
hulu+disney+espn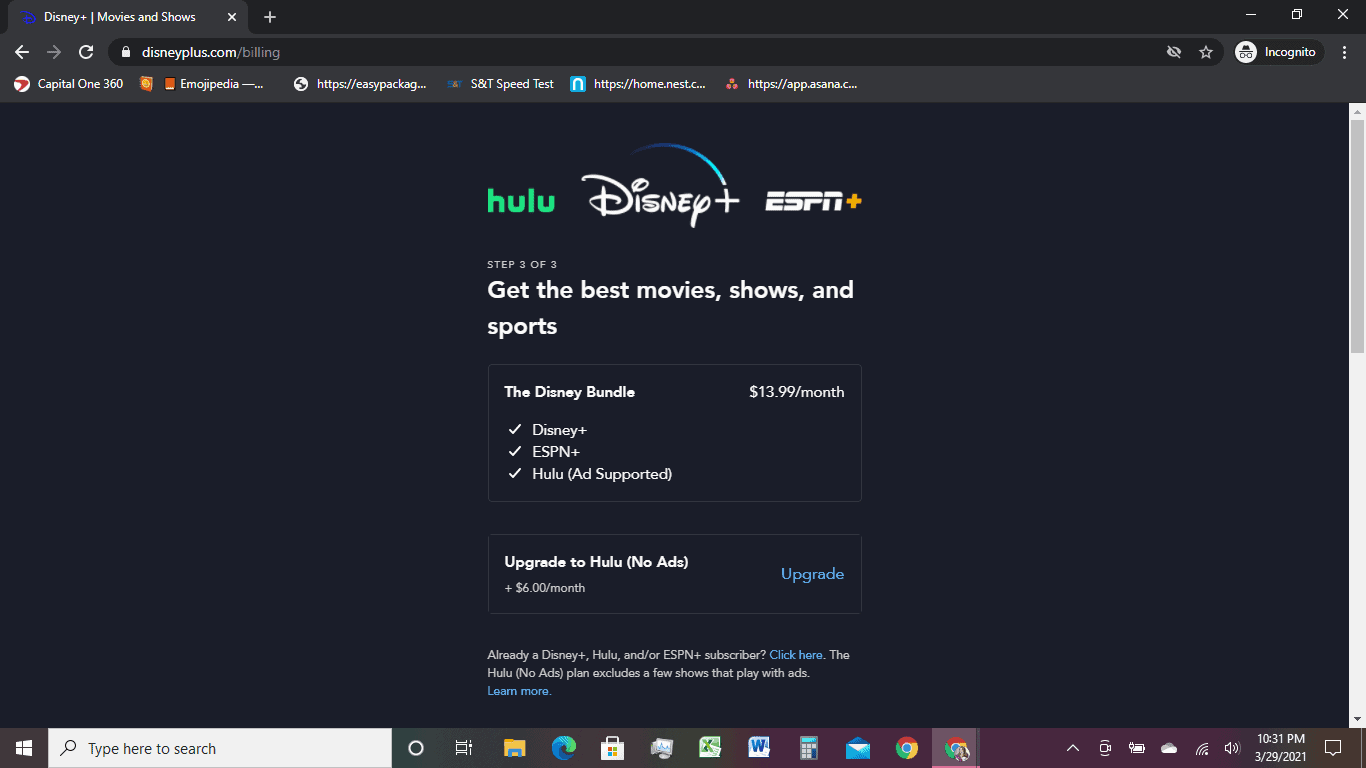 3. Philo
Philo is a terrific choice for entertainment and lifestyle content. The service offers 60 popular channels including MTV and HGTV. The one thing it doesn't have is sports.
Still, you can find plenty to watch on Philo TV. All of its content is live, so you'll be able to watch current, on-air episodes of your favorite shows.
Try Philo free for a week. After that, you'll have to cancel it or pay $25 per month.
Try Philo
4. Sling TV
Want to watch ESPN free? Try Sling TV. This streaming giant offers a free three-day trial. It's a great way to watch Live TV for free.
CNN, A&E, HGTV, Fox Sports, and the ESPN family of networks are just a few of the many channels you'll enjoy watching on Sling TV.
It's menu makes it very easy to find something good to watch.
As with the other streaming services mentioned, just remember to cancel before the free trial ends.
If you forget, you'll have to pay either $35 or $50 per month, depending on which channel package you tried for free.
Try Sling
5. Netflix
There's another way to get Netflix for free besides using a friend's login credentials. Did you know you can sign up for a free 30-day trial of Netflix?
That's right, you can get Netflix free for a month. After that, plans range from $9.99 to $19.99 per month.
If you're thinking about keeping one streaming service subscription, Netflix might be it.
Its large selection of titles and original content really can't be beat.
Bottom Line
In an age where 'free' often comes with strings attached, the streaming services mentioned here really are free. No strings attached.
This is particularly true for the first 12 options mentioned here.
The others offer free trials that cost you nothing, as long as you remember to cancel before the trial ends.
Figure out which one or ones you enjoy most and make them your go-to entertainment option.
How much do you spend each month for cable? What's your favorite streaming platform? What are other platforms you use to watch free content?