Hulu vs. Hulu Live – which is better for you? We cover cost, content, and differences to help you choose.
If you're considering cutting the cord, either of these Hulu plans is better than cable. Both Hulu and Hulu Live give you all of Hulu originals and Hulu on-demand. The difference comes down to live TV.
Let's dive in.
Hulu vs. Hulu Live Review
Since 2007, Hulu has put out killer original shows and the best content from most of the major networks in a user-friendly streaming format. It started out free, then moved to a low monthly fee. Now, it offers two streaming options – Hulu and Hulu Live. Differences between the services include:
Cost – Hulu costs a reasonable $6.99 per month. The Live version (sometimes called Hulu Plus or Hulu with Live TV) costs $69.99 per month.
Content – Regardless of which option you choose you receive access to all original content (like The Handmaid's Tale and movies) and its large library of shows on other networks (like ABC, CBS, HGTV, History Channel and more).
Hulu Live includes live streaming content, original shows, Hulu live sports and a massive amount of on demand content as well as Disney+ and ESPN+.
Which one is best for you depends on what you want to watch.
Hulu is like Netflix. Hulu Live is like Netflix plus live TV.
You can cancel, pause or switch between either service any time with no penalties or fees.
What Do You Get for $6.99 A Month?
Hulu Basic (or just Hulu) is only $6.99 per month. That's a steal for all the content you get to enjoy. The Hulu shows list is similar to that of Netflix and Amazon Prime.
It's a robust library loaded with on-demand content you can watch whenever and wherever you want.
All you need to watch Hulu is a smart TV, laptop, tablet, or smartphone.
For just $6.99 per month, you get access to all Hulu original programs plus more than 1,750 top shows and 1,500+ movies from almost all the major networks and cable networks.
While there's simply too much content to catalog in this post, here's a sampling of some of what comes with a basic subscription.
What Comes With the Live Upgrade?
Disney+, ESPN+, live sports, live news and well, live TV. At $69.99 per month, cost is the big difference between Hulu and Hulu Live.
It's like cable, but better. And cheaper.
It's better than cable because you get everything that comes with a basic subscription plus a whole lot more. The Hulu Live TV channels list is extensive.
There are nearly 85 channels, including:
ESPN, HGTV, Disney Jr
FX, FS1, FS2, A&E
USA, CNN, Fox News
Those are just the highlights. Hulu Live delivers the best of cable and on-demand content. You get live TV of course, but you also get access to past seasons of your favorite TV shows.
A Live subscription includes:
The five most recent episodes of TV shows
Past seasons of many TV shows
Hulu TV shows and original content
70+ channels of live TV programming
1,500+ movies
Ability to add on HBO Max, Cinemax, Showtime, and Starz
*Related: Read our review of the available HBO Max plans to learn more about that platform.
Benefits
Logo
Hulu Live - 75+ channels of live sports, news and more

Stream all Hulu original shows, plus live TV from all the major networks including ESPN, HGTV, and CNN for half the cost of cable!


Add-ons
If you want premium channels beyond the nearly 70 that come with Hulu Live, you can add:
HBO Max – $14.99 per month
Cinemax – $9.99 per month
SHOWTIME – $10.99 per month
STARZ – $8.99 per month
You can also add one of three packages:
Entertainment Package – $7.99 per month, for: American Heroes, BET Her, CNBC World, Cooking Channel, Crime + Investigation, Destination America, Discovery Family, Discovery Life, DIY Network, Great American Country Family, Military History Channel, NickToons, MTV2, MTV Classic, Science, and TeenNick.
Sports Package – $9.99 per month, for: NFL Red Zone, TVG, TVG2, MAVTV, Outdoor Channel, and Sportsman Channel.
Español Package – $4.99 per month, for: CNN en Español, Discovery en Español, Discovery Familia, ESPN Deportes, FOX Deportes, History Channel en Español, and NBC Universo.
You can also upgrade your screen bandwidth. Hulu Live includes:
Unlimited cloud DVR storage
Watch content on two screens
Watch on your favorite device (iOS, Android, Roku, Fire TV and Fire TV Stick, Apple TV, Chromecast, Xbox One, Xbox 360, Samsung Smart TVs, LG smart TVs, Nintendo Switch)
If you want to end fighting over the remote in your home, you can add an unlimited screens option for $9.99 a month.
*Related: Not sure if Hulu Live or YouTube TV is best for you? Read our YouTube TV vs. Hulu Live analysis here to see how they compare.
The best part about the add-ons is that you can cancel them at any time. There's no contract, fees, or pressure.
Hulu Live makes it easy to get exactly the content you want at a reasonable price. Lastly, read our guide on how many people can watch Hulu at a time to learn how account sharing works.
Can You Watch the Original Shows Without Hulu Live?
Yes. Both plans include all Hulu original movies and shows.
Like Netflix, Hulu has invested a lot of money in original content. Sometimes, it picks up popular shows, like The Mindy Project, that networks cancel.
More originals you receive with a subscription include:
Casual, Difficult People, and Mrs. America
Future Man, Freakish, and The Wrong Mans
You don't need Hulu Live to watch any of these shows. A basic subscription for $6.99 per month provides you access to all Hulu originals.
Ads on Hulu – Cost and Plan Comparison
Including a modest number of ads in its content is how Hulu is able to keep its monthly cost so low. The ads are even personalized to you.
For those who don't want ads interrupting their shows, the platform offers two no ad plans. Hulu without Ads costs $12.99 per month.
You will still see a short ad break before and after each episode on a handful of shows. Hulu explains what no ads means on its site.
Hulu Live also includes a no ads option. It costs $75.99 per month and still includes ads during live streaming content. Disney+ and ESPN + are included in both options.
You can bundle Disney+ with Hulu and ESPN+, saving you 25 percent versus individually subscribing to each platform.
Read our Disney+ review to learn more about the streaming service.
Read our ESPN Plus review if you want to learn more about that streaming service.
If you're not certain if Disney+ will meet your content needs for content more than Netflix, read our Disney+ vs. Netflix guide to see how they differ.
hulu+disney+espn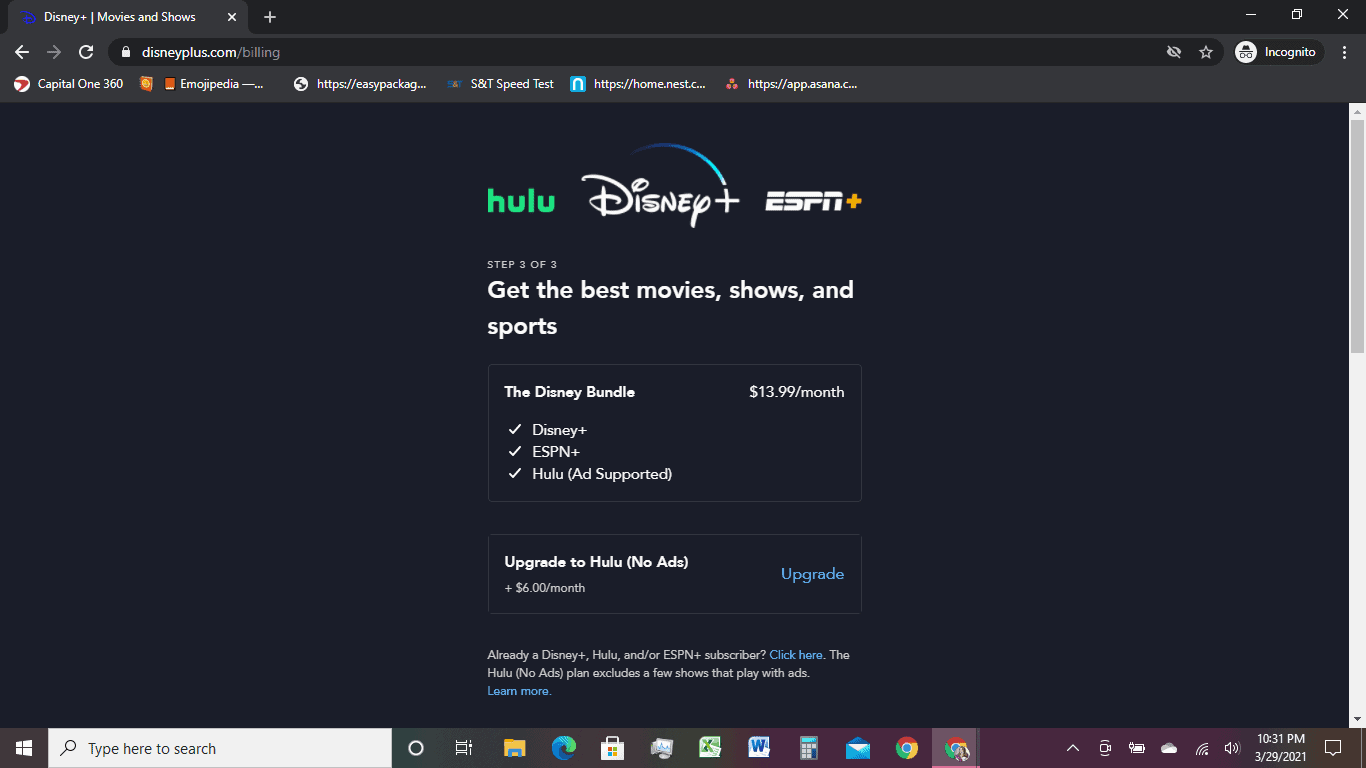 What Devices Can I Watch the Provider On?
It's easy to watch content on most devices.
I've even watched it on my phone while waiting to catch a flight in the airport. Super simple. You can stream Hulu on:
Smartphones
Laptop and Desktop computers
Tablets
Samsung, LV and any smart TV
Roku
iOS, Android, Apple TV, Chromecast
Xbox One, Xbox 360, Nintendo Switch
Amazon Fire TV and Fire TV Stick
Watching Hulu on Amazon Fire TV Stick is our favorite option. We travel a lot and like taking the Fire Stick with us.
We can plug it into any TV with an HDMI port and watch our favorite shows. All you need is a Wi-Fi connection.
Hulu Plus vs. Cable
If you still have cable and are trying to decide if the Live option will work for you, consider your budget and viewing habits.
*Related: Not sold on Hulu? Read about other alternatives here to find a better fit for your viewing needs.*
What shows and movies do you watch? Do you love TV? Are there prime time shows you don't want to miss? If you answered yes, Hulu Live is for you.
Other benefits over cable include being able to pause, change, or cancel your service any time. No fees. No penalties.
If you're more of a movie buff, try the basic version for a month. Should you like it, great, but if not, Netflix might be a better option.
Maybe you like TV, but find you mostly watch shows on the major networks (ABC, CBS, FOX, and NBC). We're like that.
Try Hulu basic for $6.99 per month and buy a digital antenna, like the Mohu Leaf 50, on Amazon.
Summary
If you're looking for a great streaming service that fits any budget, Hulu is it. If you don't need live TV, Hulu basic for $6.99 can't be beat.
Add a digital antenna and you can watch your favorite local network shows live.
If you enjoy live TV and want to watch shows on HGTV, ESPN, CNN, History Channel and more, try Hulu Live.
No clunky box. No nasty contract. Cancel anytime.
Have you tried Hulu Live? Do you like watching live TV? What channels do you wish you could get without cable? What's keeping you from cutting the cord?