When NBC launched Peacock TV in 2020, many people wondered if the streaming space needed yet another provider.
Despite having significant competition, the platform established itself as a solid option to help cord-cutters get the content they want at an affordable price.
We've reviewed the Peacock streaming service to help you learn what comes with Peacock free and what you get when you upgrade to Peacock Premium.
What is Peacock?
Peacock is the NBC streaming service offering free and paid plans.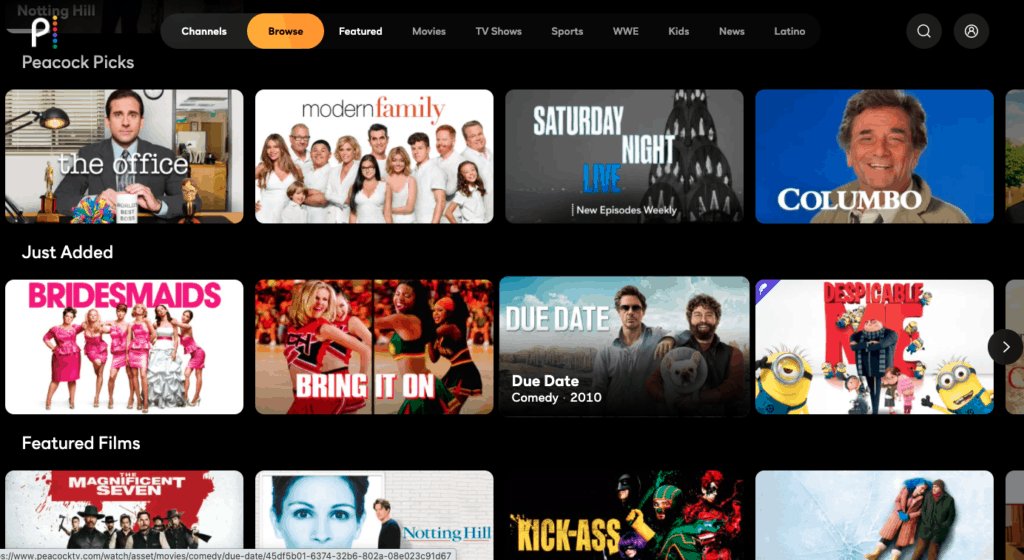 Depending on which plan you choose, you can watch movies and TV classics, Universal films, live streaming news, sports channels, and original series.
There's also plenty of on-demand content from the vast library of NBC television programming.
| Feature | Peacock | Peacock Premium | Peacock Premium Plus |
| --- | --- | --- | --- |
| Price/Mo. | Free | $4.99 | $9.99 |
| Price/Yr. | Free | $49.99 | $99.99 |
| Ads | Yes | Yes | No |
| Mobile Downloads | No | No | Yes |
| Original Content | No | Yes | Yes |
| Live Sports | No | Yes | Yes |
| Free Trial | No | Yes (7 days) | Yes (7 days) |
How Much is Peacock TV a Month?
Peacock is a fantastic free way to stream content. The Peacock app has a free tier, in addition to paid options.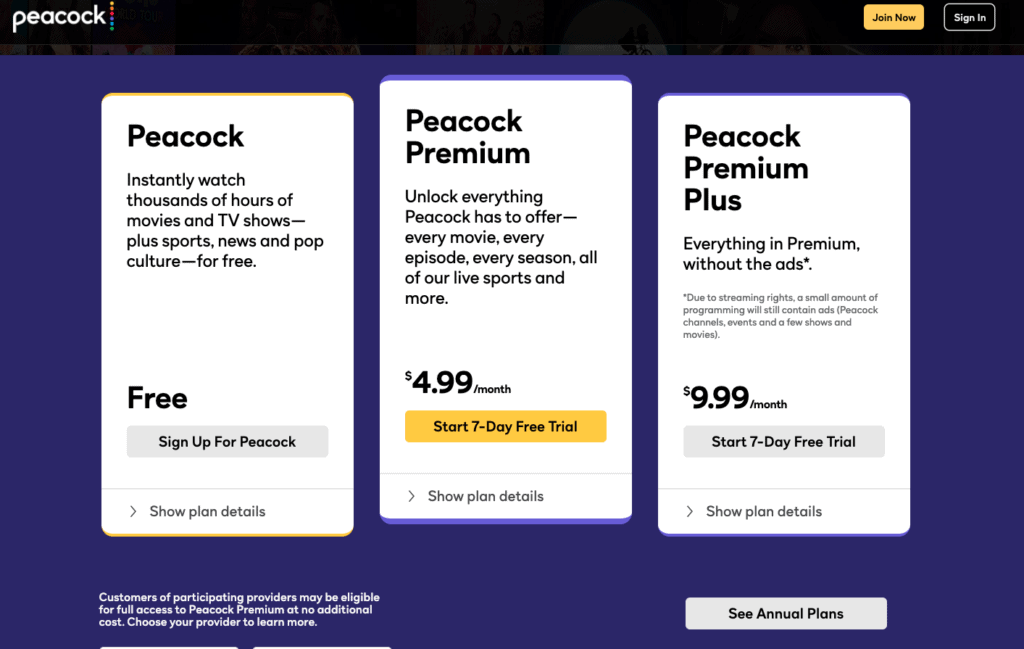 NBCUniversal uses an ad-supported tier to offer free content and paid subscription tiers to provide unlimited access to NBC shows, originals, and live TV programming.
Peacock has three plans:
Peacock – free
Peacock Premium – $4.99 a month or $49.99 a year
Peacock Premium Plus – $9.99 a month or $99.99 a year
NBC says you can get about two-thirds of its content free. The other third requires a paid plan.
Does Peacock Have a Free Trial?
It is no longer possible to get a free trial to try the Premium or Premium plus plans. However, you can create a free Peacock account at any time to test the service and watch select shows and movies.
As is true of all streaming services, you can cancel whenever you want without a fee or penalty.
What TV Shows and Movies are on Peacock?
This video streaming service offers thousands of hours of movies and TV shows, exclusive content that's only on Peacock, plus news and sports.
There's also a good amount of content for kids as well as Spanish language programming from Telemundo.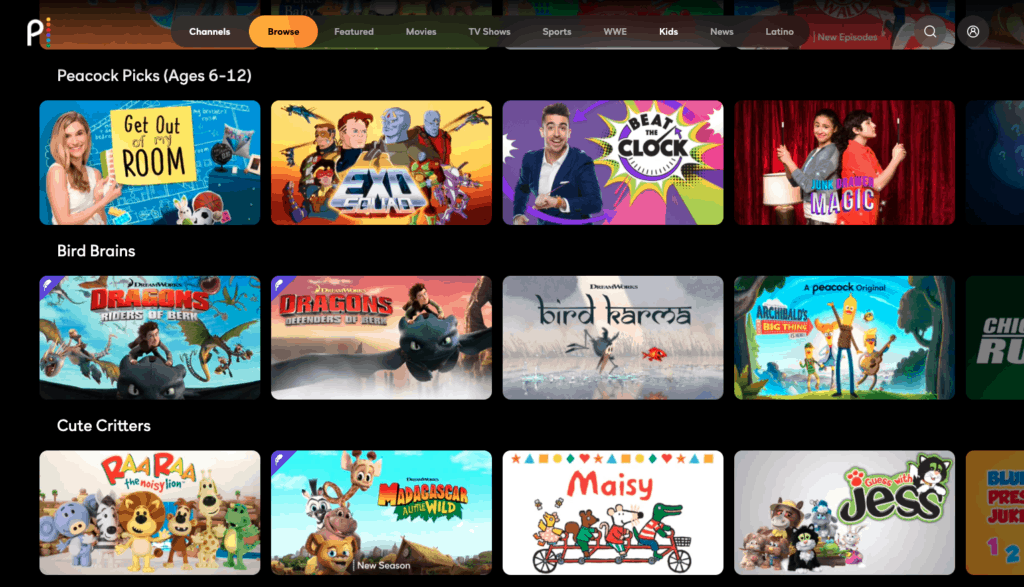 However, you won't be able to watch all episodes of every show for free. Take SNL, for example. The most recent airing won't be available immediately with the free plan.
You'll get a lot of back seasons and the second most recent episode. If you want to receive the current episode, you'll need to pay for Premium.
If you're a fan of the hit Dutton-family inspired drama, Peacock is the best choice to watch Yellowstone without cable.
Peacock Premium
At $4.99 a month, Peacock Premium includes everything in the free Peacock plan plus live sports from the Premier Soccer League, the 2022 Winter Olympics and exclusive original series.
It also includes every episode of The Office, Parks and Recreation, Suits, and every other show on Peacock. You'll even enjoy next-day access to current NBC hits as well as more movies and TV shows.
*Related: Do you want to break free of cable but don't know where to start? Sign up for our course to learn the steps you need to cancel cable and save $100+ per month.*
Additionally, you receive full access to all of Peacock's movies, original content, and TV shows for kids.
This is significant because it includes everything DreamWorks has made for kids and a lot of great on-demand content.
Peacock Premium Plus
Peacock Premium is $9.99 a month and offers everything in the Premium and free tiers, plus the ability to download select titles and watch them for free offline.
It also lets you watch everything ad-free. NBC does say that due to streaming rights, a small amount of programming will still contain ads.
This mostly includes Peacock channels, a few shows and movies, and events.
WWE on Peacock
Every WrestleMania ever is on Peacock, which is the exclusive streaming home of the WWE Network and owner of the streaming rights for the franchise.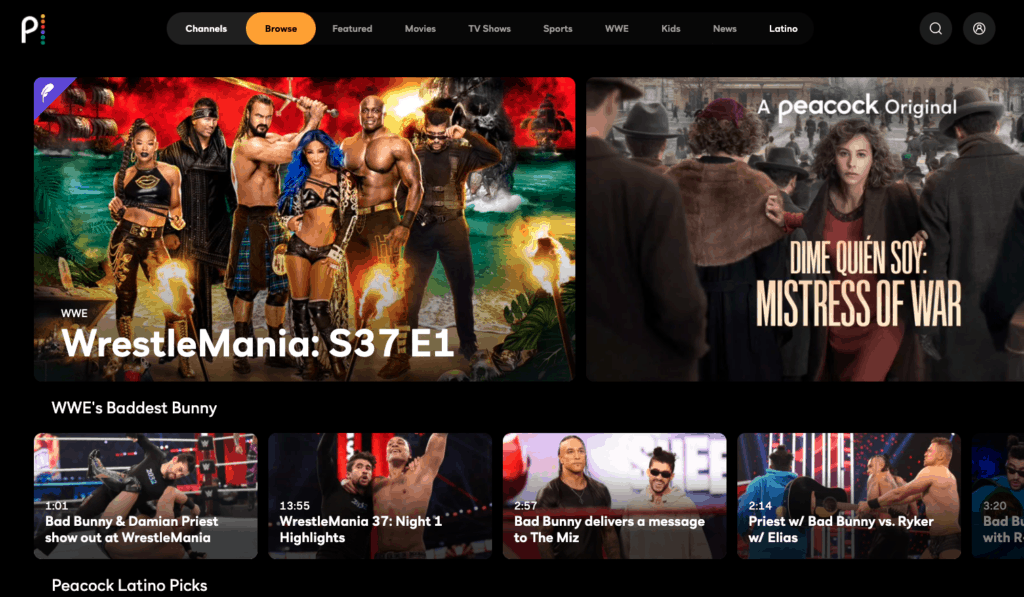 While you can get some WWE content for free, a paid subscription gives you much more. For $4.99 a month, you will unlock every live WWE pay-per-view event, including WrestleMania, SummerSlam, and Royal Rumble.
You can also watch every episode of Raw and Smackdown, with current full episode replays 30 days after their original air date.
Movies
You'll find hundreds of movies to watch on Peacock, even at the free tier. However, most were made over ten years ago.
There are a handful of newer movies, like John Wick 2, and lots of classic films, including all the Harry Potter movies, Psycho, The Goonies, SpaceJam, and The Breakfast Club.
More movies are available on the Premium plan, but many last for only a limited period of time. For instance, the service had all the Jurassic Park and The Matrix movies when it launched.
Now, those are not available.
Original Series
Original shows are one of the draws for those looking into cord-cutting and can be some of the most popular content on a streaming service.
Hulu's award-winning series, The Handmaid's Tale, is one example of television content only available through Hulu.
Nothing at Peacock has risen to that level, but it does have several originals available to Premium tier subscribers.
Original series include Saved by the Bell, Save Me, A.P. Bio, The Departure, and The Capture.
MSNBC Shows
You can start watching select MSNBC shows on Peacock starting in spring 2022.
MCNBC announced on March 10, 2022 that popular shows like Morning Joe and All in With Chris Hayes will be on the platform hours after they air on the cable network.
No date has been set, but expect it to occur in the near future.
You will need to subscribe to Peacock Premium to get access to the shows.
Can I Watch NBC Live on Peacock?
No, it is not possible access your local NBC live stream through any tier of Peacock.
Many cord-cutters want to know if Peacock has local channels. While it doesn't, you can easily get your local NBC station with an over-the-air antenna.
For a low, upfront cost, you'll get all your local channels free, for life.
However, you will get some up-to-date news and sports through several live streaming channels NBC puts on the platform from select cities.
Those cities are:
Chicago (WMAQ)
Philadelphia (WCAU)
Boston (WBTS)
New England Cable Network (NECN)
Miami (WTVJ)
The service will be adding Los Angeles (KNBC) and New York (WNBC) in the near future. You can watch the stations from any location, not just the respective cities.
You can watch live news and sports through the NBC News Now, NBC Sports, and Premier League TV stations in the "Channels" section.
Does Peacock Have NFL Games?
Yes, it is possible to watch some NFL games on the Peacock streaming service. There are a few caveats to catch the action. Those are:
You must have Peacock Premium or Premium Plus
The only games you can watch are regular season games on NBC
If you are signed up for one of the premium plans you can watch Sunday Night Football games airing on NBC. No other games are available on the streaming service.
User Experience
Peacock has a smooth look and feel. It is easy to watch on a TV, laptop, tablet, or smartphone.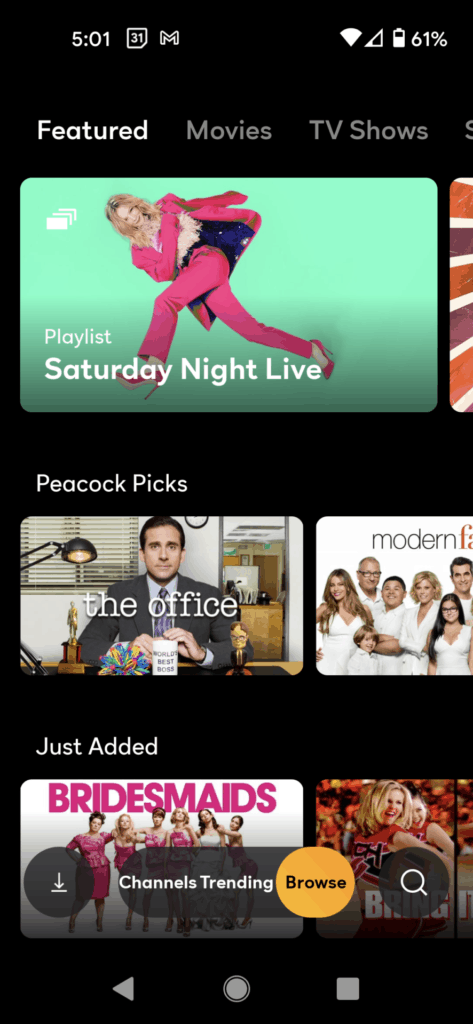 You can create a free account with just an email address. A credit card is not required to register.
When you sign in on a computer, smart TV, or tablet, you'll see a few featured shows at the top of the screen and a row of options at the very top.
The Channels, Browse, and Featured options are the three main ways the platform organizes its shows and movies.
Browse is the default view for bigger screens. Channels is the view you see first when you watch on your phone.
NBC includes extra content with many shows and movies that allow you to find similar titles and watch clips as well as trailers.
Clicking on any title brings up a screen. Then, that show's rotten tomatoes score and Flixter rating are viewable just beneath it.
Any show with a purple triangle and white feather icon indicates premium content.
How Bad are the Ads?
While commercials are the same between the free and Premium plans, they are not that bad.
NBC says it runs less than five minutes of ads per hour of content you watch.
In an older movie that is about two hours long, you can expect six 45-second commercial breaks and a 20-second clip at the program's start.
We found the statement to generally be true in our testing of the platform.
There are not as many interruptions on the CBS-backed free TV streaming service, Pluto. On some shows, NBC will run three minutes of ads at the beginning and then air the rest ad-free.
This commercial time is comparable to other, similarly-priced streaming services that offer ad-supported tiers, like Discovery Plus and Hulu.
If you want ad-free content and the ability to download shows to watch offline, you'll have to register for Peacock Premium Plus for $9.99 a month or $99.99 a year.
Device Support
Nearly every mainstream device supports Peacock.
You can watch the free streaming service on Samsung and LG Smart TVs, Roku, Firestick, Chromecast, computer, Apple TV, and iOS and Android devices.
Pros and Cons
As you consider whether or not to try Peacock TV, here are some positives and negatives to consider.
Pros
Lots of content on the free version
Huge catalog of on-demand shows and movies
Next-day access to some NBC shows
Plenty of content for kids
Cons
Have to pay for full access to popular shows and movies
No live local NBC access
Channels and Trending section layouts are confusing
No user profiles or mobile downloads for free tiers
Overall, the Peacock app is a good option for cord-cutters. If you like NBCUniversal content and don't require live TV it could be a decent cable replacement for you.
Peacock Review
Available Content

Price

Availability

Original Series

Ease of Use
Summary
Get tons of popular shows and movies from NBCUniversal for only $5 a month, and no contract.
Pros
✔️ Lots of free content
✔️ Live sports, including some NFL games
✔️ Flexible plan options
✔️ Next-day access to some popular NBC shows
✔️ Tons of content
Cons
❌ Must pay if you want access to all episodes of popular series
❌ No access to local NBC affiliates
❌ No offline downloads
Bottom Line
Peacock is yet another streaming service in a very crowded space. But, if you like NBC shows and popular movies, it could be worth giving the free service a try.
If you don't mind commercials, the free plan can let you figure out how many shows you want to watch that require the premium plan.
You'll probably determine that you won't need the Premium Plus plan unless all your favorite shows are on NBC and you want to watch them ad-free.
Ultimately, Peacock TV can be an excellent way for cord-cutters who are fans of NBC content to ditch cable and save some money.
What's your favorite free TV streaming service? How much is your monthly cable bill?