Pluto TV is an entirely legal way to get free cable. There are plenty of cable alternatives in the space, but few offer free TV without requiring a contract. ViacomCBS owns the service, so they highlight their content on the platform. The streaming service also carries content from channels like Comedy Central and AMC.
We've used Pluto TV for several years as it has a lot to offer. If you want to watch TV without paying a cent, our review will help you determine if it's a good choice for you.
What is Pluto TV?
Pluto TV is a free live TV streaming service that carries over 100 popular channels. Unlike paid services like fuboTV or Sling TV there is no monthly subscription fee and no credit card is required to start service.
The live TV app carries content from the ViacomCBS family of networks. It also has shows from popular networks like NBC and CNN.
Read our guide on ways to watch you local NBC station without cable to learn about other options.
More than 12 million people use the platform, making it the largest free TV streaming service in America. It's second only to YouTube of the free channels on Roku.
What Can You Stream on Pluto?
Pluto TV is a leader in the free live streaming space. It has over 100 channels of content. These aren't the user-generated funny cat videos you'll find on YouTube.
This is legitimate content and most anyone will find something they can enjoy.
Entertainment Networks
There is a wide variety of content available on Pluto, especially for lifestyle and entertainment fans. Here is some of the channels you can find on the service:
Comedy Central
Entertainment Tonight
CMT
BET
Paramount
TV Land
One thing to keep in mind is not all channels carry the full channel on Pluto. For example, some of the shows may be several years old. That's not the case for all the networks.
If you're a fan of The Walking Dead, the streaming service added the first five seasons of the show in mid-2020.
Furthermore, Pluto has aired past seasons of Yellowstone before so watch out for other opportunities to catch up on the Taylor Sheridan produced hit.
Sports Networks
Do you like to watch sports? Pluto TV has some options for you to scratch your itch.
*Related: Love the NFL, but want to ditch cable? Check out our guide on the best options to watch NFL games live without cable.*
Here are some of the sports channels available:
Fox Sports
CBS Sports HQ
NFL Channel (not the NFL Network)
PGA Tour Rewind
Stadium
Most of the content is highlights or talk shows. There are some live sporting events, such as Division II football games but it won't replace ESPN for you.
News Channels
There is a wide variety of news channels available on the streaming platform. Here are some of the news channels you can expect to get on Pluto:
Bloomberg TV
CBSN
Cheddar News
CNet
NewsMax TV
Sky News
Top Stories by Newsy
Like the sports and entertainment channels, most of the news networks aren't streaming live. Some, like CBSN are the 24-hour news channel.
However, CNN and others are often content that was recorded hours earlier.
*Related: Do you want to cancel cable, but not sure which streaming service to choose? Try our free quiz to see which platform will best fit your needs.*
Think of them as offering snippets of news telecasts that provide a high-level overview of what's going on in the world.
On-Demand Movies
In addition to live TV channels, Pluto TV also has an impressive on-demand library of popular movies. These aren't recent blockbusters, but we've often found free movies we can't watch elsewhere.
Current on-demand movies include:
Four Brothers
Diary of a Mad Black Woman
Jack Ryan: Shadow Recruit
The Big Short
Last Holiday
Dr. No
The Fighting Temptations
The platform currently has over 130 on-demand movies to watch. It's likely you'll find something enjoyable to entertain yourself on a weekend evening.
On-Demand TV Shows
Pluto also has numerous on-demand TV shows you can watch at your leisure. These aren't current series, but fan favorites of the past.
Current on-demand offerings include:
Three's Company
Walker Texas Ranger
The Steve Harvey Show
Duck Dynasty
The Walking Dead
American Pickers
There are currently over 160 shows to choose from and watch when you want.
Platform and User Experience
While a bit basic, the platform will remind you a lot of a common cable TV interface. It is a little clunky for new users, but it's relatively easy to surf and find something to watch.
When you launch the site, it takes you to a grid-like menu you may be familiar with from cable. On the left side of the screen it has the genre listed.
You can click on one you want to find networks for the given niche.
When you click on a show to watch it brings it to the top of the screen, and it minimizes the guide.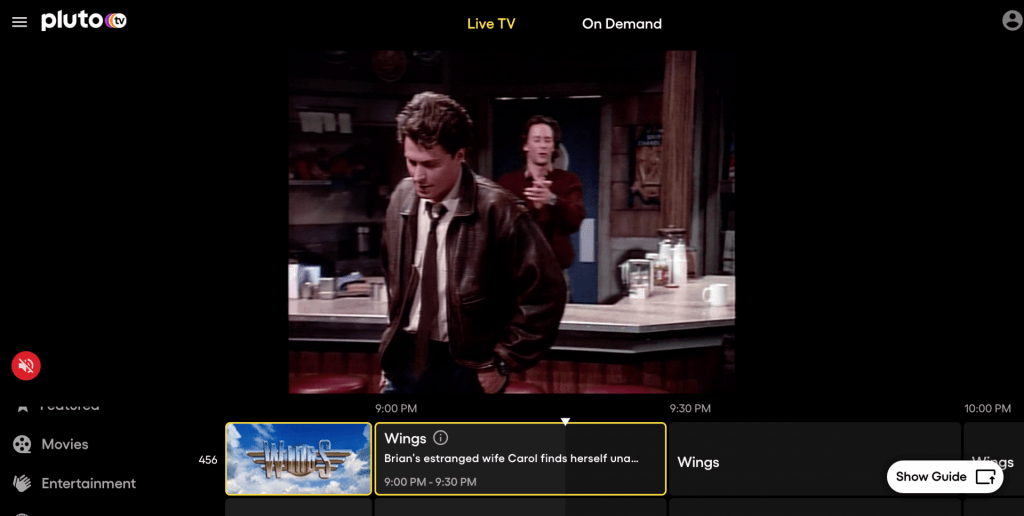 There aren't a lot of bells and whistles, but the user interface is simple to navigate and find something yo watch.
All you need to watch is a smart TV, smartphone, computer or tablet, and an internet connection to stream for free.
The streaming quality is excellent. When we've tested Pluto TV, we experienced no interruptions, pixilation, or outages. You just download the free app, install it, and start watching.
Plans and Pricing
Pluto TV has a lot of on-demand content, as well as live TV. Here is what you receive with the service.
| Feature | Pluto |
| --- | --- |
| Monthly Price | Free |
| Number of TV Channels | 100+ |
| Number of On-Demand Movies | 130+ |
| Number of On-Demand TV Shows | 160+ |
| Offline Downloads | No |
| Original Content | No |
| Picture Quality | SD and HD |
You won't catch the latest show on the service, but it does provide hours of quality content.
Does Pluto Offer Live TV?
Yes, there is live TV with the free streaming service. The live content varies from channel to channel, so not all channels are live. Pluto TV also doesn't offer local channels so you will need an antenna to get your local networks.
There are many antennas you can purchase to watch local TV. We bought a Mohu Leaf on Amazon and love it.
It's a great way to get our nightly newscast and favorite shows from ABC, CBS, FOX, NBC, and PBS for free.
*Related: Read our guide on the best services to watch ABC live without a contract to get your favorite network shows.
Pair that with the service and you'll always have something to watch without having to pay a dime for it.
Compatible Devices
There's a good chance you already own something on which you can watch Pluto TV. Ways to stream include the following:
Internet browser like Safari, Firefox, or Chrome on your computer
Smartphone (both iPhone and Android have free Pluto TV apps)
Apple TV
Chromecast
PlayStation 4
Smart TV (Samsung, Sony, Vizio, and more are supported)
We've watched on our smartphones, TVs, and laptops and had an excellent experience on all. The menu and guide are the same and the viewing experience is crystal clear.
How bad are the ads?
Watching live channels on Pluto TV is similar to watching live TV on a streaming service or cable provider. The amount of commercial breaks and time of the ads will be the same.
On an hour long episode you can expect to get 45 minutes of content, with approximately 15 minutes of commercials. That is fairly standard for live TV programming.
It's the on-demand and non-live channels that can get more heavy handed on commercials. It's fair to expect several more minutes of commercial time when watching an on-demand TV show or movie.
Is Pluto TV better than cable?
While it's a terrific free service, Pluto TV is not a full cable replacement. It's a fantastic supplement to a streaming service to watch on-demand movies and TV shows that you may not find with other services.
How does Pluto TV make money?
Pluto makes money by showing commercials when viewers watch video content. The service is owned by ViacomCBS, who offers it for free.
You can expect to see some additional commercials than you might find on other services, but it's a free over-the-top streaming platform so it's hard to complain.
Pluto vs. the Competition
There are many free TV streaming companies. Each has unique offerings, but it's important to know how they differ. Here's how the free ViacomCBS platform compares against the competition.
| Service | Live TV? | Originals? | Ads? | Registration Required? |
| --- | --- | --- | --- | --- |
| Pluto TV | Yes | No | Yes | No |
| Peacock | Yes | Yes | Yes | No |
| Crackle | No | Yes | Yes | No |
| IMDBtv | No | Yes | Yes | Yes |
| Tubi TV | No | No | Yes | No |
| Vudu | No | No | Yes | Yes |
| Roku Channel | Yes | No | Yes | No |
Many cord-cutters prefer to use multiple platforms to get free content. Since they're free you can try them and find the best one for your interests.
Pros and Cons
Pluto sounds like an excellent service, but it is easy to think it's too good to be true. Here are some things to remember when considering the service.
Pros
The service is free to use
No registration is required
Offers some free live TV shows and movies
Great selection of on-demand content
Cable-like experience
Cons
Limited number of new episodes
No DVR on live TV streams
Some of the news content may not be current
No service is perfect, but there is a lot to like about the free streaming platform.
Pluto TV Review
Channel Lineup

Price

Availability

Commercials

Ease of Use
Summary
Get over 100 channels of content from reputable networks plus some live sport, all for free and with no contract.
Pros
✔️ Absolutely free
✔️ Over 100 channels of content
✔️ Has some live sports
✔️ Does not require an account
✔️ Good selection of on-demand movies
Cons
❌ Has lots of ads
❌ Not a lot of advanced features
❌ Interface is a bit clunky to use
Bottom Line
Legal, free cable remains impossible. But, free streaming services like this one are making it harder for cable companies to make money. That's because it offers many great TV shows and movies, absolutely free.
If you've been thinking about trying Pluto TV, give it, or one of the cable alternatives mentioned here, a shot. With no cost and no information to turn over besides your email address, you have nothing to lose.
How much do you pay for cable each month? What are some other free cable alternatives you've tried? What's one thing that keeps you from cutting the cord?