Losing access to local networks is a major reason why people choose to keep cable. Channels like ABC, CBS, FOX, and NBC air popular prime time shows, so you might think that cutting the cord means sacrificing those programs.
Fortunately, that is not the case. You can watch local TV without cable and easily save at least $50 per month, if not closer to $100. We've spent considerable time testing all of the options listed here in this guide.
By following a few simple steps, you can save money and still enjoy watching television.
Ways to Get Local Channels Without Cable TV or Satellite
An expensive contract is no longer necessary to watch local TV channels. Here are the top ways to get your favorite shows.
1. Buy an Antenna
An antenna is the best way to get local networks without cable. If you think you can't use or install an antenna, please don't believe that lie.
Antennas used to be big, clunky, and difficult to install. Luckily, that's no longer the case.
It's possible to install an antenna within a couple of minutes, and you can start watching over-the-air broadcast shows immediately.
Beyond being a cost-effective one-time expense, you can get local channels free for life. We have the Mohu Leaf, and it provides us excellent reception of network TV shows.
Reception quality largely depends on the locality of broadcast towers in relation to your residence. The closer you are to towers, the better quality you can expect.
How many channels you get also depends on where you live. We get roughly 30 local channels here in Omaha. If you live in a larger city, you may even be able to get free cable TV channels with little effort.
The best way to tell what channels you can get is to go to the FCC site to see how close you are to towers. Put in your zip code or address, and you will see which channels you can expect to receive.
For example, you can see below what the site tells us we can expect to receive in our area.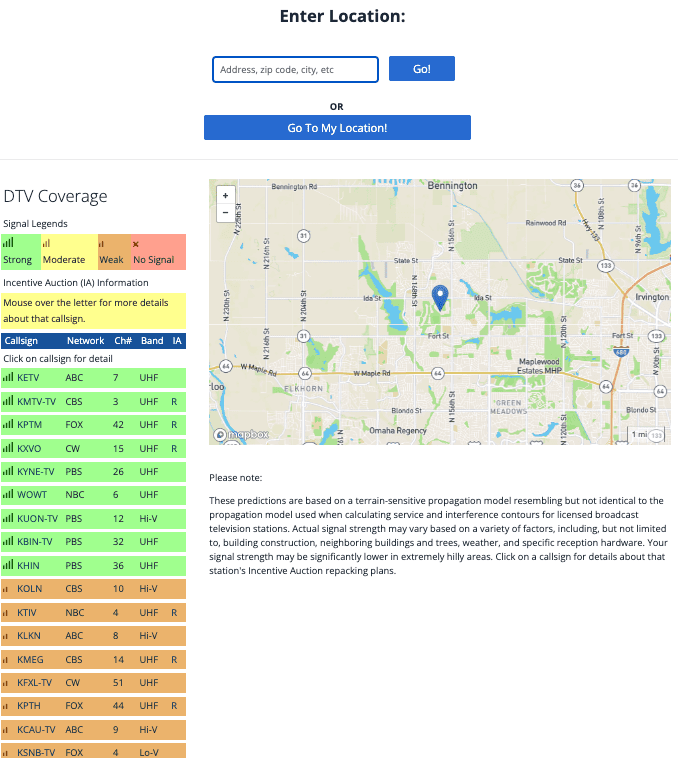 We get more than it shows, but this gives a good indication of what you can watch.
What Kind of Antenna Do You Need?
Not all antennas work the same, so it's important to know which type is best for your needs. If you live in a location where towers are in one direction away from your house, you will need a directional antenna.
You can find many top directional antennas on Amazon, and most are available at an affordable price.
However, you may live in a location where broadcast towers are in numerous directions. In that scenario, you will need an omnidirectional antenna.
Again, Amazon is a good resource to find the top options.
Regardless of which one you need, you want to point your antenna in the direction of the nearest towers. That allows for optimal reception.
Additionally, depending on the distance to the towers, you may need a stronger antenna. The Mohu Leaf, for example, has different options.
They start at 30 miles and go up to 75 miles.
A stronger one may increase the number of local stations you can receive.
Indoor vs. Outdoor Antenna
A big part of choosing an antenna is whether or not you need an indoor or outdoor antenna. You will be fine with an indoor antenna if you live in a major metro area and are within 20 or 30 miles from broadcast towers.
If you live in an apartment or some other communal dwelling, you will likely only be able to use an indoor antenna.
However, if you live in a rural area or far away from towers, an outdoor antenna is best.
They're typically more expensive but can be installed on your roof or in the ground. Head to Amazon to find the best available options for an outdoor antenna.
2. Use a Live TV Streaming Service
If you don't want to use an antenna, a live TV streaming service is a great way to get the local channels in your area. Several of the top TV streaming services include nearby affiliates, and the services are contract-free.
This lets you switch between services if you find one that is better for you. Better yet, the most expensive service is $69.99 a month. This is considerably less than the average cable TV bill of $200 a month.
There are several options to choose from. However, you won't notice Sling or Vidgo on our list.
Why is this? Both are good services, but Sling only offers FOX and NBC in certain locations, and Vidgo only offers ABC and Fox in its channel packages.
You can pair either with an antenna, but that does mean additional effort.
Here are the top streaming services with local channels.
| Service | Cost | Streams | Profiles | DVR | Chs. |
| --- | --- | --- | --- | --- | --- |
| DIRECTV STREAM | $69.99+/mo | 20 | 2 | Unlimited | 65+ |
| fuboTV | $69.99+/mo | 10 | 6 | 1,000 hrs | 105+ |
| Hulu Live | $69.99+/mo | 2 | 6 | Unlimited | 75+ |
| YouTube TV | $64.99+/mo | 3 | 6 | Unlimited | 85+ |
All you need is an internet connection to use any of these TV streaming apps. Most services also offer free trials so you can test them out.
DIRECTV STREAM
DIRECTV STREAM is the most expensive of the cable replacement services. It has four tiers, with the Entertainment package costing $69.99 a month.
All four packages let you stream local channels. Due to its cost and fee structure, DIRECTV STREAM is the closest to cable on this list.
However, it's the largest carrier of Regional Sports Networks (RSNs) in the space, making it a good choice for some people.
*Related: Do you like CBS content but don't want to stay with cable? Read our guide on the best ways to stream CBS without cable.
Despite its cost, the service has a competitive channel lineup with dozens of popular lifestyle, entertainment, and sports networks.
Read our guide here on how it compares to YouTube TV, which is our top-rated service.
Read our review of DIRECTV STREAM here to learn more.
| Info | Data |
| --- | --- |
| Pricing & Packages | 4 packages. Entertainment - $70 / Premier - $150 |
| Channels | 65 to 140+ |
| Supported Devices | iOS, Android, Roku, Amazon Fire TV + more |
| Simultaneous Streams | 20 |
| DVR | No limit |
| On-demand library | Yes |
fuboTV
FuboTV is an excellent choice for people who aren't satisfied with the sports content on local networks. The service began as sports only and now boasts over 100 channels in its base package at $69.99 a month.
Fubo includes all local networks in your area and many other popular channels. They also offer nearly a dozen different sports-centric add-ons to enhance your viewing abilities.
Read our review of fuboTV to learn more.
| Info | Data |
| --- | --- |
| Pricing & Packages | Pro - $69.99 / Elite - $79.99 |
| Simultaneous Streams | 3 / 10 + 2 / 10 + 2 |
| DVR | Pro - 1,000 hours / Elite - 1,000 hours |
| Channels | 105+ - 150+ |
| Supported Devices | iOS, Android, Roku, Amazon Fire TV + more |
| On-demand library | Yes |
Hulu Live
Hulu Live is another popular option to get local TV without cable. Like fuboTV and DIRECTV STREAM, the platform costs $69.99 a month.
You get roughly 75 channels of popular content. A subscription includes access to their entire on-demand streaming library, including originals like The Handmaid's Tale.
Unfortunately, Hulu Live is fee-happy, so it's easy for the cost to creep up.
Read our review of Hulu Live to learn more.
| Info | Data |
| --- | --- |
| DVR | No limit |
| Pricing & Packages | $69.99 |
| Channels | 80 + locals |
| Supported Devices | iOS, Android, Roku, Amazon Fire TV + more |
| Simultaneous Streams | 2 - Free / unlimited - $9.99 |
| On-demand library | Yes |
YouTube TV
YouTube TV is the final live TV streaming service selection to get local channels without cable. The service costs $64.99 per month for roughly 90 channels.
Not only does it include ABC, CBS, FOX, and NBC, but it's one of the only streaming TV services that also include PBS in its channel lineup.
Beyond that, it has an impressive lineup of networks that likely includes some of your favorite TV channels.
Read our YouTube TV review to learn more.
| Info | Data |
| --- | --- |
| Pricing & Packages | $64.99 |
| Channels | 85+ |
| Supported Devices | iOS, Android, Roku, Amazon Fire TV + more |
| Simultaneous Streams | 3 |
| DVR | No limit |
| On-demand library | Yes |
When you combine the access to sports content and CBS, Hulu Live is an excellent choice to watch March Madness without cable.
3. Use an On-Demand Streaming Service
If you don't want the expense of a live TV service, a video streaming service is a fantastic solution to get access to some over-the-air content, including your local news.
This isn't available for all networks, but if you're a fan of CBS or NBC content, you are in luck. Here are the two options from these providers.
Paramount+
Paramount+ is a standalone video streaming service that airs CBSViacom content. Not only does this include CBS shows, but you get content from the following networks:
BET
Comedy Central
MTV
Nickelodeon
Smithsonian
You also get the entire Star Trek library of content, original series, and movies.
The platform has two plans. Those are:
| Subscription Type | Monthly Cost | Annual Cost |
| --- | --- | --- |
| Limited Ads (Essential Plan) | $4.99 | $49.99 |
| Ad-Free (Premium Plan) | $9.99 | $99.99 |
If you choose the ad-free option, you get access to your local four CBS stations. This also lets you watch NFL and college football games broadcast in your area.
Read our review of Paramount+ to learn more.
Peacock
Peacock TV is a video streaming service run by NBCUniversal. It's to NBC what Paramount+ is to CBS.
Peacock has three plan options. Those are:
| Feature | Peacock | Peacock Premium | Peacock Premium Plus |
| --- | --- | --- | --- |
| Price/Mo. | Free | $4.99 | $9.99 |
| Price/Yr. | Free | $49.99 | $99.99 |
| Ads | Yes | Yes | No |
| Mobile Downloads | No | No | Yes |
| Original Content | No | Yes | Yes |
| Live Sports | No | Yes | Yes |
| Free Trial | No | Yes (7 days) | Yes (7 days) |
It differs from Paramount+ because it offers minimal live streaming of shows. You can watch Sunday Night NFL games with the Premium plan.
The platform has similar options for golf, tennis, cycling, and WWE. If you want to watch broadcast shows, you must wait 24 hours to watch them on Peacock.
It also has the entire Office and Parks and Recreation library, plus other original shows and movies.
Read our review of Peacock TV to learn more.
4. Use Network Apps
If you need a bare-bones approach to getting local channels, apps from the respective networks can be a good alternative. Your viewing experience won't be as robust, but it might be enough for your needs.
Here are the apps for each of the local affiliates:
All of the apps work differently, but most offer a way to watch free TV, clips, and more of local TV. Some local affiliates may direct you to use their respective apps.
Just be aware that some apps may request login information from your local cable company or satellite provider to watch anything beyond clips or highlights.
5. Use a Free Service
If you only want to watch your local news, there are free services that can meet your needs.
The two best options for this are:
Amazon News is an app available through Amazon Fire devices. The app includes roughly 90 channels of local news content.
After launching the app, you can see the available networks and select the one closest to where you live.
NewsON is a similar service that offers access to nearly 300 local news stations nationwide.
One thing to note is that both of these services provide curated news content instead of a live feed.
How Do I Get Local Channels If I Don't Have Cable?
Cable or satellite TV is not required to get local networks. You can get your nearby over-the-air stations via an antenna or live TV streaming service.
These options do not require a contract and offer significant savings vs. paying for cable. If all you need is your local affiliate stations, an antenna is your best choice to get broadcast TV networks.
What App Gives You Free Local Channels?
Until recently, Locast was a service that carried local networks for free in approximately 35 different markets. For a $5 monthly donation, you received free TV in those areas.
However, legal challenges have forced their closure. Apps like Amazon News and NewsON are suitable alternatives, but they only offer news content.
Does a Smart TV Need an Antenna to Get Local Channels?
Yes, even if you have a smart TV, an antenna is required to get your local stations. You can install most antennas on a smart TV within several minutes.
After installing, you can watch anything broadcast over the air in your area if your antenna is powerful enough. Available for an affordable one-time cost, an antenna is the best choice to watch local TV.
How Do I Add Local Channels to My TV?
Installing an antenna is the best way to add nearby networks to your TV. During installation, the antenna will identify the channels available to you.
You select the ones you want to be added to your TV. Whenever you turn on your television, you can access any of those channels to start watching.
Bottom Line
Watching your favorite over-the-air network shows and sports isn't difficult. All you need is an antenna or a live TV service to watch any of those shows.
Most antennas are a minimal one-time expense. All streaming services are no-contract. There are plenty of choices to stay free, so there aren't many reasons to keep an expensive cable or satellite contract.
If you still have cable, what's the one thing keeping you from cutting the cord? What do you look for in a streaming service provider?