Delivery app jobs have become a popular side hustle since more people are ordering home delivery of goods, meals, and groceries. One of the more well-known delivery side gigs is working as an Instacart Shopper.
Instacart lets you make money delivering groceries. You can have a flexible schedule and potentially earn more than other gig economy jobs.
This Instacart Shopper review shares how to make money as a personal grocery shopper in your spare time and if this gig is worth the effort.
What is Instacart Shopping?
Instacart is a grocery delivery service that lets customers buy groceries using their app. The customer chooses the items, pays for the order, and waits for home delivery.
As a Shopper, you accept the order, shop for groceries at the designated store, and deliver the items to the buyer.
Shoppers receive payment within the platform based on the order size and driving distance of each shop they complete.
Customers have the option to leave a tip. Instacart Shoppers keep 100 percent of customer tips.
How Does the App Work?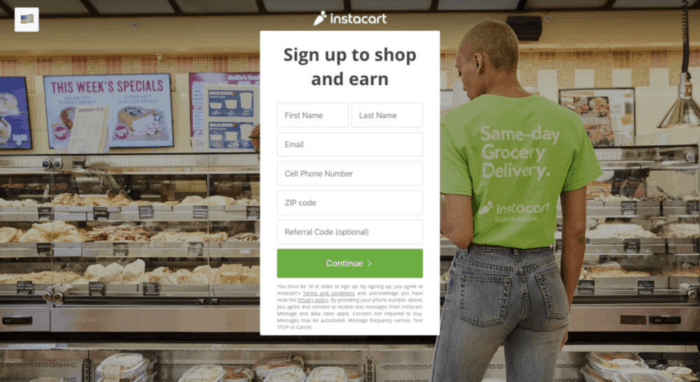 Working for Instacart is simple and has a few basic requirements.
The first step is downloading the side gig app to your Android or Apple phone.
Instacart requires shoppers be at least 18 years old and have the ability to lift at least 40 pounds unassisted.
There is also a basic background check shoppers need to pass. Other delivery app side hustles have similar requirements to before you can take on gigs.
After completing the onboarding process, full-service shoppers can accept delivery requests in the app. The company calls orders "batches."
The shopper then goes to the grocery store to collect the items from the shopping list. After paying for the items using a prepaid debit card, the shopper uses their own vehicle to deliver the order.
Shoppers receive payment and tips within the app. The company distributes payment weekly to your linked bank account.
Full-Service Shopper
With full-service shopping, you buy groceries and deliver them to customers.
Full-service shoppers are the most common position and are independent contractors. These shoppers don't earn a set hourly wage, but they can schedule their own working hours.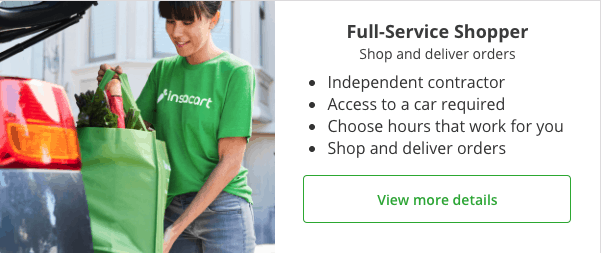 Here are the basic requirements to be a full-service Instacart Shopper:
Be over 18 years old
Have consistent access to a reliable vehicle
Have a newer smartphone (iPhone 6s or Android 5.0 or newer)
Be able to lift at least 40 pounds
Full-service shoppers are paid via commission based on the order size and delivery distance. They also keep 100 percent of the tips they receive from customers.
Instacart estimates the potential payment before you accept a delivery. Shoppers can use the payment details to decide if accepting the order is worth the effort.
If a shopper wants to decline an order, they have the option to do so. However, accepting as many orders as possible can increase the odds of being the first shopper to receive future order requests.
While you can choose your delivery hours, being open to delivering during peak hours when there are more order requests can increase your earnings with this side hustle.
Paying for Your Orders
Shoppers don't have to request reimbursement from customers or Instacart after paying for groceries from their own wallets.
Instead, Instacart Shoppers receive a prepaid debit card to pay for groceries. When accepting a delivery, Instacart loads the order amount onto the payment card.
*Related: Looking for other ways to make money? Check out our working for Postmates vs. DoorDash guide to see which is better for drivers.*
After paying for the order, shoppers scan their grocery receipt to match the purchased items with the total purchase price.
You won't be able to start working for Instacart until you receive your payment card. Other food delivery apps also send a special debit card to their delivery workers.
In-Store Shopping
Instacart is no longer hiring in-store shoppers. Serving in this role meant you were an employee for the company and would not earn as much as a full-service shopper.
If you would rather not deliver items to people and prefer to be an in-store shopper, check with local grocery stores to see what opportunities they have.
How to Accept Orders
Being able to make money as an Instacart Shopper requires accepting delivery batches.
Shoppers can claim delivery requests within the Instacart Shopper app. This app is different than the app that customers use to buy groceries.
The app displays the available orders that are closest to your current location.
Most opportunities are "scheduled batches." It's possible to accept multiple deliveries that are nearby. Choosing multiple orders can take more time but increases the total payment potential.
Each delivery request lists the following details:
Grocery store location
Number of items to purchase
Estimated driving distance
Estimated payment
Customer instructions
Shoppers have a limited number of minutes to accept a batch. If they don't respond quickly enough, Instacart invites the next shopper to accept the delivery.
During peak hours or when there is a shortage of shoppers, the app shows "On-Demand" batches.
On-Demand orders may be further away from your current location. Fortunately, these orders usually pay more due to the longer driving distance.
It's also possible to earn delivery bonuses when Instacart wants to encourage shoppers to complete more deliveries.
Shoppers can browse the app for more deliveries when the first batches are complete.
After accepting an order, shoppers go to the grocery store and place the requested items into their cart.
Shoppers can check items off the digital shopping list by scanning product barcodes. If a substitution is necessary, the shopper can make changes in the app.
The customer receives delivery updates as the shopper works on the order.
Compensation
The Instacart app records how long it takes to shop for groceries. However, it doesn't compensate for shopping time or other unplanned delays.
After completing the delivery, shoppers can see their payment balance in the Instacart Shopper app. Shoppers also see any customer tips they receive.
While Instacart doesn't publicly list how much Instacart Shoppers can earn, there are several online data points from current shoppers on how much this delivery app gig pays.
The Instacart Shopper pay for full-time shoppers varies by order based on several factors. Full-time shoppers can anticipate earning around $20 per hour, including tips.
However, driving expenses and delivery fees reduce the total wage to between $10 and $20 per hour. This rate is competitive with other delivery driver jobs.
*Related: Read our guide here of other driver apps that offer similar pay.
Pay frequency is once per week via direct deposit to a linked bank account.
It's also possible to request on-demand payments to a debit card with the Instant Cashout feature. Be aware that there is a $0.50 fee per request if you use this option.
Read our review of the Instacart peak hours to learn the best times to work.
How to Increase Earnings
There are several ways to increase income when working for Instacart.
One option is to shop at a grocery store where you are familiar with the layout. Knowing which aisle each item is in reduces your shopping time. When you are able to shop quickly, you increase your effective hourly rate of pay.
For example, you might make $20 per order. Finishing the order in 30 minutes boosts your pay rate to $40 per hour.
Having to substitute items or skip items is inevitable. Contact the customer and communicate clearly. Good communication can help you get a higher tip.
It is possible to accept two orders at once. While you do double the shopping, you only make one trip to the grocery store.
The Instacart Shopper app periodically offers delivery bonuses. Meeting the challenge requirements can boost your pay.
Finally, consider shopping when there are peak delivery requests since you only make money when you deliver groceries. Try delivering in the mornings, afternoons, and evening hours to see which times are best for your local stores.
Pros
As with any money-making opportunity, there are several things to keep in mind. Here are the reasons to apply for Instacart Shopper.
Set your own schedule
Weekly pay
Ability to make $20+ per hour if you're a fast worker
No specialized skills are required
You can work as much as you want
Cons
You may not decide to apply for this opportunity for these reasons:
Limited jobs if you live in a sparsely populated area
You must pay for your own gas and maintenance on your car
The cons aside, becoming an Instacart Shopper can be a lucrative side hustle if you work quickly.
Alternatives to Shopping with Instacart
Is Instacart Shopper worth your time? These on-demand delivery app gigs may be a better option with more delivery opportunities in your city.
DoorDash: Deliver for restaurants in most cities across the United States. Keep 100 percent of customer tips and receive bonuses. Read our Instacart vs. DoorDash comparison to learn which is best for drivers.
Shipt Shopper: Deliver food and household items. Receive free Shipt deliveries to your home as a Shipt Shopper perk. Read our Shipt vs. DoorDash review to see which is best for drivers.
Postmates: Deliver food, groceries, and merchandise. Delivery by bike or scooter is available in select cities.
These three delivery apps work similarly to Instacart Shopper. Not only are they are free to join, but you can also accept nearby delivery orders and keep customer tips.
As an independent contractor, you can join multiple apps to see which ones are busier for your local area.
You can read our Shipt Shopper or Instacart Shopper guide to learn how the two apps compare.
Summary
Choosing to become an Instacart Shopper is a great way to make extra money if you like grocery shopping. The pay can be better than other side hustles, and the schedule is flexible.
Instacart Shopper is a legit way to make money on the side. Whether you're a stay-at-home parent or need to supplement your income, the platform provides ample opportunity to earn cash.
Would you like to buy and deliver groceries? What are some other unique ways to make money on the side?