Is Disney+ worth the cost? At $7.99 a month, it's one of the more reasonably-priced streaming services. When you combine it with Hulu and ESPN+ in the popular bundle option for $13.99, it's a complete streaming option, minus live TV.
The Disney streaming service has been around for a little over a year and it is wildly popular. If you're wondering if the platform is worth the cost, this Disney+ review will shed some light on the service so you can make an informed decision.
What is Disney+?
When considering any streaming service it's important to know what you will receive. Disney Plus does not offer live TV. The service is a standalone service that carries only on-demand content.
That includes:
Star Wars
Marvel
Pixar
All the Princess movies
All the animated movies
The Mandalorian
National Geographic content
The Simpsons
Hamilton
You will not find the content on Netflix, or any other service.
Price
The service is an affordable $7.99 per month, or $79.99 for a year (a savings of $15.89). That puts it below Netflix's cheapest plan, which costs $9.99 per month.
If you're weighing Disney Plus vs. Netflix, keep in mind that eventually, there will be no Disney content on Netflix. You can read our comparison of the two services here to see how they stack up against each other.
If you don't need live TV and are searching for a low-cost content option, you can get the Disney+ plus ESPN+ plus Hulu (with ads) bundle for $13.99 per month. That's a terrific price that gives access to a significant amount of on-demand content and your favorite shows, 24 hours after they air.
If you want local networks, you can pair it with an antenna like the Mohu Leaf and you'll get all your local channels as well.
Content
If you're anything like me, you'll be surprised at what's on this platform. Right across the top, it segments its content into five buckets:
Disney content
Pixar content
Marvel content
Star Wars content
National Geographic content
Within each of those buckets are dozens upon dozens of movies, documentaries, TV shows and series. Even better, all content is family-friendly.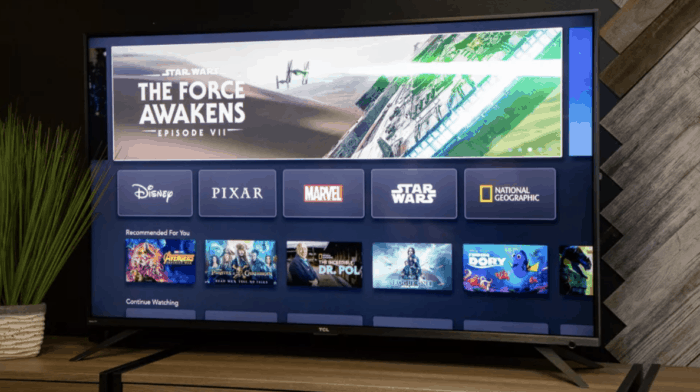 Shows
Disney Plus has original series and movies created for devoted viewers. These shows and others are exclusive to the platform:
The Mandalorian
WandaVision
High School Musical The Musical The Series
Encore!
The World According to Jeff Goldblum
The Imagineering Story
Forky Asks a Question
The above is only the tip of the iceberg and you can expect additional new content over time. Star Wars fans can expect ten new shows, which were announced in late 2020 and include series on: Andor, Obi-Wan Kenobi, The Bad Batch, Ahsoka, Rangers of the New Republic, Boba Fett, Lando, and more.
Movie List
A few of the hit movies currently available include:
All the Disney Princesses movies (All the Elsa, Ariel, Snow White and Belle you could want. I stopped counting at 30.)
Marvel Avengers Endgame (and so many more Marvel movies)
Avatar
Toy Story (and all the Pixar movies)
All the Star Wars movies
Heartwarming sports movies like Remember the Titans, Miracle, Secretariat and Invincible
Classics like Mary Poppins, The Sound of Music, Old Yeller, The Muppet Movie, Newsies, High School Musical and The Parent Trap
Hamilton
There is something there for everyone in your family.
Supported Devices
Like all the major streaming services, you can stream on just about anything. If you have any of the following, you can view shows and movies:
Amazon Fire TV and Fire tablets
Roku (boxes, TVs and sticks)
Apple TV
Macbooks, iPads, iPhones
Android phones and tablets
Any computer with an internet browser
Google Chromecast
Playstation
Xbox One
Samsung and LG Smart TVs
Bottom line – it's really easy to watch content on the platform.
User Interface and Viewing
The House of Mouse invested a lot in its interface and it shows. We've tried watching from smartphones, tablets, computers, and TVs and the app looks great on all of them.
Like other streaming services, clicking on a title brings you to a synopsis and the option to start watching. You can pause, rewind, and fast forward while watching. There are also no commercials on the service.
The platform does it's best to segment content into logical categories:
Originals
Titles recommended for you
Hit movies
Out of the vault
Mickey Mouse through the years
Inspired by true stories
Ultra HD and HDR
Musicals
Disney Channel favorites
Throwbacks
Disney Junior Series
Feel good sports movies
Documentaries
If nothing in any of those categories interests you, just click 'search' and more categories, like 'Disney Through the Decades' will appear. You can also type any title directly into search to find a specific movie or show.
Quality and Viewing Experience
Streaming quality is essential for anyone considering a streaming service. Most content streams in HD/SDR and looks great.
However, some content is available in 4K and Dolby Vision, for no additional cost. This currently includes the Star Wars movies, as well as Frozen, Moana, Aladdin, and more. They're committed to growing this, which is terrific for subscribers.
Simultaneous Streams
If you're like our family, we almost always have multiple people wanting to watch content at the same time. It can be frustrating to go to watch something only to boot someone off what they're watching.
The provider currently offers four simultaneous streams on accounts. This is included in the base price and should be sufficient for most families.
Parental Controls
Although the service doesn't have a lot of adult-themed content, having access to parental controls is necessary for those with younger children.
Parents can create a Kids Profile to restrict access to more age-appropriate shows and movies. This will typically only show content that's G or TV-7VF rated.
You can also create up to seven profiles, which can be customized from many available avatars and by name.
Pros and Cons
Not everyone loves Walt and all he created, so it's important to know who the platform is for and who it isn't for.
Pros:
Affordable monthly and annual plans
Huge library of content
4K HD and HDR streaming
Growing library of original content
Intuitive, easy to use interface
Diverse content
Cons:
Not for bingers
No live content, sitcoms, or sports content – the bundle option is a good solution to this
No free trial
No gritty, adult drama, true crime or other adult-only content, such as what you'd find on Netflix
Overall, the service is a good value that most fans will enjoy.
Disney+ Review
Available content

Price

Availability

Original Series

Ease of Use
Summary
Get the entire Disney library of content, plus favorites like Star Wars and Marvel movies for only $7.99 per month, and no contract.
Pros
✔️ You can bundle with ESPN + and Hulu
✔️ Get two months free if you sign up for a year
✔️ Offers 4K streaming
✔️ Big catalog of popular movies and TV series
✔️ Easy to navigate interface
Cons
❌ There is no live content
❌ Original content is lacking
Summary
Disney+ is an excellent deal. It's almost a must-buy for families. At $7.99 per month or $79 a year, it's less expensive than rival service Netflix.
While it won't completely replace cable, the Disney Plus bundle with Hulu and ESPN+ for just $13.99 is enticing.
Pair that with a digital antenna so you can watch local channels, and you could save a boatload over cable.
What are your thoughts on the service? What has been your favorite new shows to watch? Let us know your thoughts in the comments!